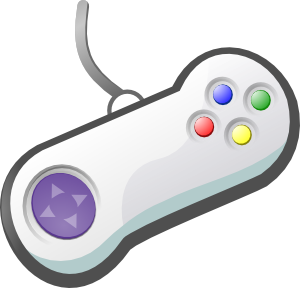 For those gamer who has been switched to PC from console games such as Xbox 360 or PlayStation, the disable of game pad vibration could be a big problem. The enjoyment of playing games will slightly decrease if your game pad is not vibrating at all. This article actually the last episode of trilogy HTPC topics which currently wrapping up on gaming experience (look at
1st article
&
2nd article
). So, anyway, here's down below the solution of how to make it vibrate.
AFAIK, nowadays PC game pad particularly build on PlayStation & Nintendo compatible. No matter what type of yours, is it joystick, steering wheel or other common type of game pad, you need to know what kind of game pad compatible you have. Just ask the hardware vendor, read manual documentation inside of cover-box or you can search over the internet to reveal what its type by entering the game pad model name or serial number. A complete wiki documentation about this you can
browse on this link
, this could be your first good start. Here below is example of my game pad, particularly a PlayStation compatible made in Chine named with Dualshock TwinUSB game pad I bought it for US$ 5, with malfunction vibration driver CD included in box.
Anyway, next step is, provide an additional original factory driver files from its type. Most of game pad today has plug and play feature basically on Windows XP. All you need to do is just plugged in the game pad in working port (most of it uses USB port) & do the calibration optionally on Game Controllers window in Control Panel (most of it isn't necessary). Both of it don't need factory driver disk since Windows will provide it natively.
Above picture shows Game Controller window where my game pad plugged in without additional driver installed, but it still using a native driver from Windows XP. Everything just working fine, even I don't have to calibrate it. When I try to playing games, the game pad doesn't vibrate! Picking up a correct additional driver to enable the vibration is not an easy job. For this, you need to trial & error; even it has the same exact model name between the game pad & the driver which is explained on the readme file included.
After trying trial & error downloading the driver from internet & installing it for tens times, finally I found a best & fit one to my particularly game pad. The picture above explains the difference after a correct driver installed. The controller name now changed from TwinUSB Joystick to Twin USB Vibration Gamepad & also there's a new tab on Game Controller window showing vibrate setting. I though this driver is a kind of universal type & will work with any others game pad, (perhaps specifically built from china fabrication). If you want to try this driver, download it from
rapidshare in this link
& install both files included on it.
After that, try to loading a games & the game pad controller name should changed to new name too. Now, playing games on
my HTPC
is more comfort since vibration on game pad has been working after installing a correct driver. Well, for me everyday mean works had & play hard.
Labels: HTPC, Modifikasi PC, Multimedia, PC Modding, Windows Media Center
Sincerelly,

Eko Wahyudiharto

PS: If you've benefit from this blog,
you can support it by making a small contribution.