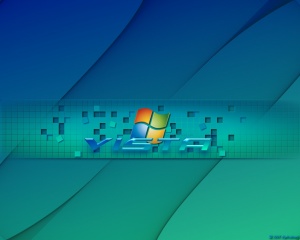 What's this article mean? It's nothing except playing around with Vista Live released by CHIP international magazine (If you like,
here is a link to download via torrent
). Even that it seems dated, but I just interesting & want to know what's behind on it. Well, it's another live CD tool similar to XP Live build from
Bart PE
(I wrote an
article about it
sometimes ago). Anyway, it's easiest to boot with BIOS pointing to CD in usual way, but this time I'd like to test to boot it with SBM.
SBM (Smart Boot Manager) tool let any bootable media to boot with it. However - on this case - it required UNIX to start. In other way, it's suitable to work with GRUB as add-in module which helping out booting any bootable media such as USB flash disk or CD (e.g. your old computer which hasn't any capability to boot from BIOS).
First of all, download SBM files to your computer right on
this link
(25 Kb contains 2 files ~
memdisk.bin
&
sbootmgr.dsk
). To install it, boot to your Linux then copy both files to any directories you prefer – here in my experience with
Fedora 7
- I made directory
/boot/grub/sbm
& copied the files into it. Then edit grub.conf under /boot/grub directory, add an appropriate line so that GRUB will read it & show as new boot menu. Here below is my example:

# grub.conf generated by anaconda
#
…


# Add these 3 lines at the end of file




title SBM




root(hd0,0)




kernel /boot/grub/sbm/memdisk.bin




initrd /boot/grub/sbm/sbootmgr.dsk
After editing grub.conf, save it & make a reboot. Now, GRUB menu will add a new boot menu as same as image below.
Try to insert the CD (Vista Live) then select Boot Manager menu. A new window SBM will show up & it will list automatically which media that able to boot from.
Select CDROM & press enter. The SBM succeeded to load & read the CD. Please be patient while the Live CD loaded successfully.
In couple minutes, a new splash welcome page will show up. Just like the name, this CD purposed for diagnostic tools & bootable windows enhanced with anti spyware, password checker, anti virus & also data recovery.
After it loaded successfully, it will display a desktop similar to Windows XP completed with simple file manager & group of tools under start menu.
As it automatically detect & recognized NTFS partition, so I recommend this tools as 2nd live CD after
Windows XP in Stick
to rescue your NTFS based OS (such as 2000, XP, Vista or Vienna which known as 7). Somehow, I still wondering, why they give name with Vista Live while the environment OS much similar to XP than Vista?
Labels: Live CD, My Share, Windows Vista
Sincerelly,

Eko Wahyudiharto

PS: If you've benefit from this blog,
you can support it by making a small contribution.